THE BONES AND THE BOOK
"Issaquah writer Jane Isenberg's The Bones and the Book has a broad subtext: the quintessentially American topic of reinventing oneself. More specifically, the novel is a charming and often moving portrait of Seattle's Jewish community, past and near present." Adam Woog in The Seattle Times.
"Isenberg's story pulled me in right from the startling prologue. The twin historical stories of Aliza and Rachel are compelling and poignant. The lives of these women in 1900 and 1965 are beautifully woven together, the strands balancing each other as each discovers her strengths and revises her own identity as a woman and a Jew." Sharan Newman, author of The Shanghai Tunnel.
http://archive.constantcontact.com/fs134/1102964308331/archive/1116500847717.html
Jane Kirkpatrick, Author
"Past and present collide in this complex, compelling historical mystery. Using the classic elements of hidden manuscript and mysterious corpse, the author builds a highly original story that is both deeply Jewish and uniquely American. Set in two wildly contrasting time periods, but rooted in the immigrant experience, the novel deftly explores the mysteries of difference, identity, loneliness, love, betrayal–and family." Lev Raphael, author of Rosedale in Love: A Gilded Age Novel.
"This is a fascinating story using a hidden manuscript and an unknown corpse… [T]he reader is treated to a taste of [two] historical periods in a mystery sure to keep you turning the pages." C.K.Crigger, Roundup Magazine.
". . . author Isenberg is also exploring a bigger issue here, that of assimilation. As each immigrant group finds its way into the cultural mainstream, the question remains: how long does it take and how much . . . gets lost in the process? We are reminded that in every group there are outsiders. Sometimes the cruelest blows come from members of one's own group who are well along in the assimilation process and no longer want the bother and embarrassment of coping with uneducated newbies with dirty nails." Roberta Alexander, January Magazine
THE BEL BARRETT MYSTERIES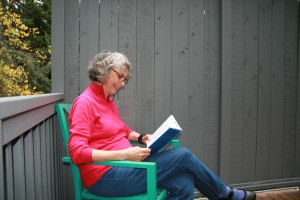 "The sleuth, Bel Barrett, is distinguished even among a crop of increasingly diverse fictional detectives by punctuating the discovery of clues with bouts of hot flashes." The New York Times
"Isenberg writes with wit and compassion about life transitions." Susan Conant, author of Dog Lovers' Mysteries
"Bel Barrett is Evanovich's Stephanie Plum twenty-five years later─sassy and brassy." Baldwin City Ledger
"Glows with heart, humor, and hot flashes." Publisher's Weekly
"Jane Isenberg delivers a well-plotted, light mystery peopled with likeable, realistic characters and skillfully served by sharp wit." Ft. Lauderdale Sun-Sentinel
"Bel Barrett brings killers to justice with her wry sense of humor and her handy estrogen patch." Bergen Record
"A funny, fast-moving . . . series" The Seattle Times
"The Bel Barrett series keeps getting better with every book." Cozies, Capers, and Crimes
GOING BY THE BOOK
"A painful and joyful reflection on one teacher's career and the role played by teacher narratives in keeping her sane and centered. Jane Isenberg has written a highly readable and scrupulously honest book that will appeal to teachers at every level who care passionately, as she does, about teaching and learning and issues of social justice." Paula Rothenberg, Director, The New Jersey Project: Integrating The Scholarship on Gender
"GOING BY THE BOOK will be particularly valuable for new teachers, I expect, and as such could play an important role in teacher education, but even those of us who've been at it for a while can gain new insights and renewed enthusiasm from Jane Isenberg's story." John S. Mayher, Professor, English Education, New York University
"GOING BY THE BOOK adds to the important literature of teaching narratives. Using her own experiences to support and empower educators who want to reform schools, Jane Isenberg is a teacher's teacher." Corinne Levin, Director, The Teacher Center, New Haven, Connecticut
---
Interviews
http://www.blogtalkradio.com/authorsontheair/2014/06/26/womens-fiction-author-jane-isenberg-on-dialogue-between-the-lines
http://www.blogtalkradio.com/authorsontheair/2014/11/13/author-jane-isenberg-discusses-her-books-on-authors-on-the-air
http://www.allclassical.org/author-author/jane-isenberg/