Unless otherwise noted, Jane's books can be purchased at most bookstores.
The Bones and the Book (2012)
Trade paperback and eBook ISBN: 978-0-9840109-2-9 Published by Oconee Spirit Press, The Bones and the Book, won a WILLA Literary Award for Best Original Softcover Fiction in 2013 from Women Writing the West. (The eBook is available at www.amazon.com and www.barnesandnoble.com.)
SYNOPSIS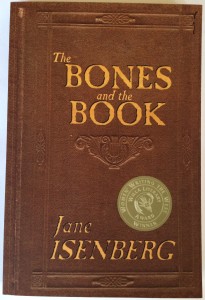 Widowed by the 1965 earthquake, Seattle housewife Rachel Mazursky translates the Yiddish diary of a murdered young immigrant, Aliza Rudinsk, whose bones were unearthed by the same quake. Rachel shares her translation with the reader so Aliza's distinctive voice alternates with Rachel's own passionate account of her response to the diary. Aliza's story moves Rachel, compelling her to read between the lines while searching Seattle for clues to the young woman's murder.
The Bel Barrett Mystery Series
(The eBooks are available at Amazon.com and Barnes&Noble.com.)
The "M" Word (1999) eBook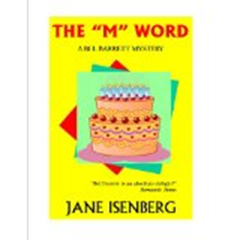 Can fifty-something English prof Bel Barrett track down the killer of River Edge Community College President Dr. Altagracia Garcia while having hot flashes and senior moments? Bel needs to clear the bad boy culinary arts major accused of icing the president instead of the cake before the real perpetrator stops her and her own goose is cooked. Join Bel, her students, sidekicks, live-in-lover, and "adult" children as Bel prowls the mean streets of Jersey City and Hoboken, New Jersey in (very) hot pursuit of the murderer.
Death in a Hot Flash (2000) eBook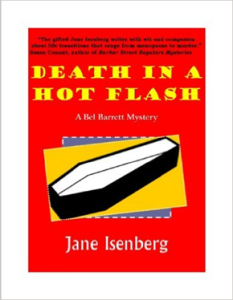 This time the fifty-something New Jersey community college prof is teaching writing to future funeral directors with popular local undertaker Vinny Vallone. When Vinny's found swimming with the fishes in the Hudson River, Bel suspects a stalker who strikes back. In a flash, Bel's up to her estrogen patch in danger. Meanwhile, Bel's aging parents fall ill in Charleston, her "adult" children are at risk in Israel and Seattle, and her long-time lover leaves her heartbroken in Hoboken. Bel must unmask the killer, teach her classes, care for her parents and her kids, and win back her lover all at once. Who said sleuthing was simple in the sandwich generation?
Mood Swings to Murder (2000) eBook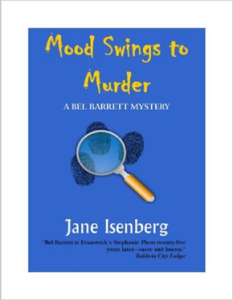 While Professor Bel Barrett and her live-in lover Sol Hecht are strolling along Hoboken's Sinatra Drive, they literally stumble upon the body of a dead ringer for the famous but now dead singer and native son. Someone has slain an Ol' Blue Eyes impersonator, and Bel is drafted by one of the suspects to find out who. She already has her hands full with summer school classes, a mother who beats the odds in Atlantic City, a gen Xer living at home who's driving her nuts, and another who's about to make her a mother of the bride, a mother-in-law and a grandmother all at once.
Midlife Can Be Murder (2001) eBook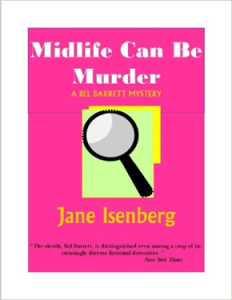 It's murder having a midlife spiritual identity crisis, especially when you're Jewish fifty-something community college English Prof Bel Barrett. Bel has barely begun to prepare for her adult bat mitzvah when former student Ashley Roberts turns up in her study group. Ashley's close dot-com colleague is dead and before you can say oy vey, Bel turns the world of high tech internet start-ups upside down to trap the killer. She's soon caught in a web it will take a Solomon to untangle and a Samson to survive.
Out of Hormone's Way (2002) eBook ISBN: 0-380-81887-6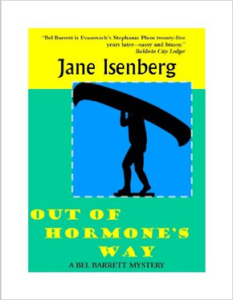 What's a midlife community college prof like Bel Barrett doing in the notorious New Jersey Meadowlands? She's leading members of the Urban Kayaking Club as they observe flora and fauna native to the infamous swamp, of course. But before you can say "Jimmy Hoffa," the battered corpse of one of the kayakers turns up, another kayaker is wrongly accused of killing her, and Bel is hell-bent on bringing the real murderer to justice. The trail leads from the Secaucus Outlets to the banks of the Hackensack River where, thanks to her wisdom, her wiles, and her estrogen patch, Bel narrowly escapes with her life.
Motherhood Is Murder (2003) eBook and paperback ISBN: 0-06-052501-0
Jane Isenberg sets menopausal mother Bel Barrett loose to solve a case of dastardly nannycide. "The Proof Is in the Patch" shares a volume with other mini-mysteries by Mary Daheim, Carolyn Hart and Shirley Rousseau Murphy.
Hot and Bothered (2003) Paperback ISBN: 0-380-81888-4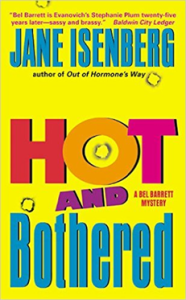 After 9/11, Bel Barrett, now a post-menopausal community college English prof, thinks things can't get any grimmer. But when a neighbor and colleague, who moonlights as a stripper, is murdered, Bel knows there's trouble on her block in Hoboken. Can this midlife mama once again prove that brains and a couple of good girlfriends can bring a killer to justice?
Hot on the Trail (2004) Paperback ISBN: 0-06-057751-7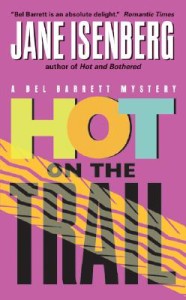 She fell in love in her fifties, and now busy New Jersey community college professor Bel Barrett can barely find time to plan her upcoming wedding to her sweetie Sol–or to read urgently needed e-mail messages on bladder control at mid-life. She must have been crazy to volunteer to teach a writing class for senior citizens. And fitting extracurricular sleuthing into her overbooked schedule should be damn near impossible. But when one of her older students, racing pigeon enthusiast Dom Tomaselli, fails to show up due to a death in the family–his own–Bel can't control her urge to investigate…especially when Dom's distraught daughter insists the old man's demise was not "accidental." With the help of family and friends, Bel races against time to home in on the killer. When she ruffles feathers in the arcane world of racing pigeons where the sins of the Tomaselli family come home to roost, Bel becomes a clay pigeon herself. One false move and she won't have to worry any more about planning her wedding.
Hot Wired (2005) Paperback ISBN: 0-06-057753-3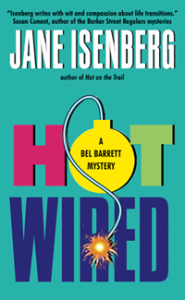 At long last, fifty-something New Jersey community college professor Bel Barrett can kick back and appreciate life with a loving new husband and the kids grown and on their own. But when an angry ex-student posts a nasty hip-hop screed about her on a popular college website, Bel is devastated. In fact, the entire college is up in arms, and the situation spirals out of control when the venomous poet is discovered lying dead on the subway tracks. Though she hasn't a single homicidal bone in her body, Bel is suddenly the cops' chief murder suspect. And with her career and her freedom on the line, this post-menopausal prof must now enter the alien world of hip-hop culture–making unlikely friends and some very dangerous enemies in the process–on her determined quest to clear her name and unmask a killer.
Going by the Book (1994) Hardback and paperback ISBN: 0-89789-396-4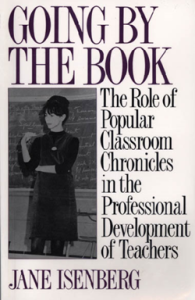 (You may order Going by the Book at http://www.abc-clio.com/ABC-LIOCorporate/product.aspx?pc=C8321C or 1-800-368-6868.)
Like The Bel Barrett Mystery Series, this memoir draws on Jane's work experience, this time as a high school English teacher fresh out of Vassar in 1962. She reflects on those difficult early years in the classroom and on the popular teaching narratives that helped her survive and learn how to teach: Teacher, by Sylvia Ashton-Warner, To Sir, with Love, by E. R. Braithwaite, How Children Fail by John Holt, Up the Down Staircase by Bel Kaufman, and 36 Children by Herbert Kohl. Going by the Book received the 1996 James N. Britton Award for Inquiry in English Language Arts from the National Council of Teachers of English. The award honors the work and memory of James N. Britton, a pioneer in classroom research.